It's friday, friday, it's gonna get down on friday.... anyone remember Rebecca Black? I hope not. But what she sang is true IT'S FRIDAAAAYYY!!! And it's... "Say it with me kids!" ... Pinterest Friday! Woot Woot! This week I thought I'd base the post on colour schemes that I've been pinning, because in a perfect world, each room in my house would have its own individual colour scheme and everything would match everything... in a delightfully subtle way of course.
I don't know whether this will be too much interest to you guys as you can't really see what I'm picturing but if you just a little imagination maybe you'll see what I see... or if not just enjoy the pretty colours... :)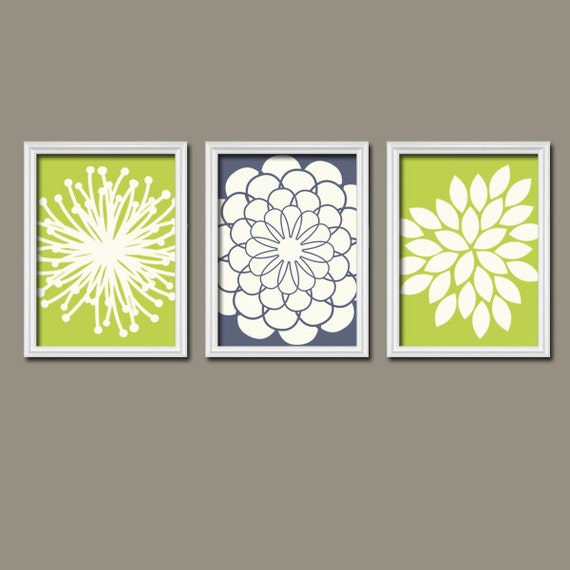 This first pin I liked led me to the delightful world of
TRM Design
on Etsy and now I want ALL their canvases! Love them and they are all reasonably priced too! I really liked the lime green with the navy against the grey background. I'd like a grey couch with these colour cushions... yes please!
I like these colours for much the same reason. I'm really loving grey at the moment and any colour that looks good with it is a winner in my book. I think I'd put these in a bedroom though not a lounge as they look quite cosy colours... If a colour can look cosy that is?
These colours... ahhh beautiful... I would definitely use these colours in my house if I was still a single gal but unfortunately I don't think the hubby would appreciate a pink bedroom. Maybe one day I'll be able to do a little girl's bedroom this colour... :) I love pastels at the moment.
So those are the colour schemes I've been loving at the moment! Let me know if what you've been pinning lately because I'd love to check them out! I hope you all have lovely weekends as well. I'm going away with my husband's family which will nice as we haven't had a getaway in quite a while.